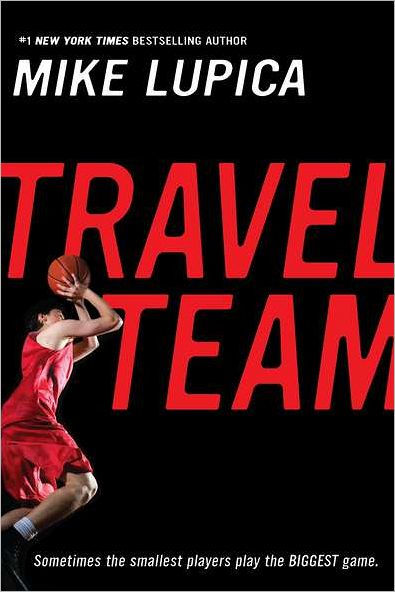 Buy This Book
---
---
"He knew he was small. He just didn't think he was small. Big difference," Danny Walker. —Travel Team
Travel Team
by Mike Lupica
AR Test
At A Glance
Interest Level

9+
Entertainment
Score
Reading Level
5.4
Danny Walker has a head for basketball. With his dad being the famous Richie Walker, a professional basketball player, basketball is in Danny's DNA. Just as his dad led his seventh-grade travel team to the finals, Danny hopes to have the same chance this year. But when he doesn't make the team due to his size, those hopes fade. With his dad back in town and a band of unlikely teammates, Danny tries to have an amazing season with a new team.
Travel Team is an exciting story about family and second chances. Danny's dad comes back to Middletown to get closer to his son and help him develop his basketball skills. His dad is a heavy drinker, but quits to become a better coach and father. Richie teaches the team what it means to play for the love of the game.
The story examines the complicated relationships between parents and children. Danny's dad has been absent for a lot of his life, but he still hopes for an authentic relationship with him. Although Richie is not a perfect parent, he supports Danny and wants the team to succeed. One of Richie's flaws is his use of inappropriate language around his wife and his son. Richie is the reason for most of the inappropriate language in this story. While the story includes some explicit language, the story clearly expresses that it is not appropriate language for children. In contrast, Danny's mom is a character many readers can look up to as an example of a great parent. She understands Danny's love for the sport and his friends, but she knows when he needs a break. She supports him in his passion for basketball.
Sports lovers will enjoy the detailed play-by-play action. With a balanced mix of characters who play and those who don't, even readers unfamiliar with the sport will be engaged by the story as they learn about basketball. With an action-packed narrative and funny dialogue between friends, Travel Team is an entertaining read. It does have a relatively familiar sports plot, where the underdogs ultimately come out on top.
Travel Team will engage readers who are looking for a good sports book that also teaches about overcoming obstacles. As the story explores real-life problems, Danny learns the importance of taking responsibility and shows that anyone can become a leader.
Sexual Content
Tess, a girl Danny likes, "leaned over and kissed him on the cheek" while they were sitting on the swings in his backyard.
 Violence
After Teddy Moran insulted his family, Danny tackled him. After they separated, Danny thought of "Teddy hitting the floor hard as Danny heard people start to yell all around them." Danny threatens him, "You're the one who's going to get hurt."
 Drugs and Alcohol
When his wife asks a difficult question, Richie answers as "he drank down about half his beer in one gulp, like he was incredibly thirsty all of a sudden."
Being dramatic, Richie says the team is "where all the bad boys go when they come out of drug rehab."
Danny's mom is upset with her husband's drinking habits. She tells him, it's ". . . not the children's fault that you're still hungover the next night. . . . Quit drinking. Now. . . It'll be better that way than letting your son be the last one to find out what a drunk you are."
Danny is thinking about parents and how they can be "pissed off" or "hungover."
Richie gets in a car accident in Middletown and tells Danny and his wife that he "wasn't drunk." Later, Richie tells his son about the car crash that destroyed his basketball career. "I lost control of the car because I was drunk. . . That was one of the nights I drank a whole six-pack before I got in my jeep."
 Language
Danny's father, Richie, is one of the few characters who use foul language. Profanity includes: Goddamn, rat's ass, hell, damn, screw'em, ass, bitching and moaning, for Chrissakes, swear to God, and frigging. Most of these are only used once.
Danny describes the park in Middletown, "to feed the butt-ugly ducks."
Danny watches Mr. Ross get upset about try-outs. Danny was "curious to see when Mr. Ross, the most important guy in Middletown, was going to figure out what a jackass he was making of himself."
After the fight, Danny says, "I should have kicked his ass."
Danny says he "could tell how pissed off his mom was" when she is arguing with his father about drinking.
Danny uses the word "crap" several times.
Coach Kel, an old travel coach of Danny's, uses "damn" several times. It serves to develop his character.
Ross speaks to Ali and Danny about his mistake in not giving Danny a position on his team. He says, "I was so hell bent on maintaining the process."
Danny and Richie talk to each other about Danny coaching the Warriors himself. Danny expresses worry and at one point says "heck no," to which his dad replies "shut your piehole."
Danny calls the opponents "scumweasels" and "scumwads" while hyping up his team in an important game.
 Supernatural
 Spiritual Content
Richie speaks about planning to start a new basketball team. "It's like your mom says. You want to make God laugh? Tell Him about your plans."
Richie is talking to his players at the end of a very important game and says, "Thirty seconds in basketball is longer than church."
Danny thinks about his mom and her strange expressions. "God Bless America. It was one of his mom's expressions when she wanted to swear."
Danny describes his mom's plans. "His mom was meeting Will's mom for a girls' brunch after church on Sunday."
Danny thinks about the possibility of Ty playing for his team. "Having just come from church, he wasn't sure whether he should be praying for stuff like this, but he was praying hard now that Ty Ross didn't really hate his guts."
Danny's teammate Will is sitting on the bench during a game "with a towel on his head that he'd fashioned into some kind of turban." Danny says to him, "Uh, Mohammed?" Will replies by saying, "I was actually going for that do-rag look."
By Hannah Neeley
---
"He knew he was small. He just didn't think he was small. Big difference," Danny Walker. —Travel Team