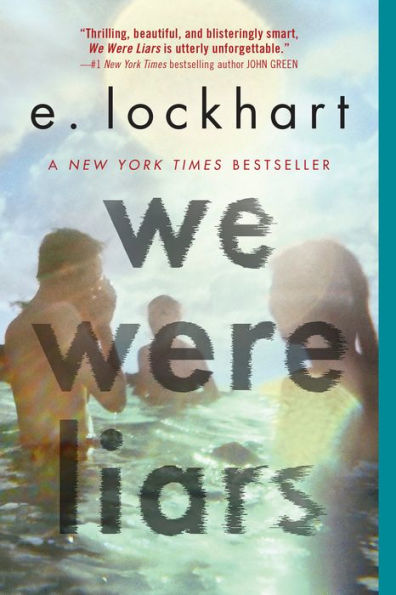 Buy This Book
---
---
"We should not accept an evil we can change," Cadence. —We Were Liars
We Were Liars
by E. Lockhart
AR Test
At A Glance
Interest Level

12+
Entertainment
Score
Reading Level
4.4
Cadence is a Sinclair. A member of the beautiful, blonde American dynasty. No one is depressed, addicted, or a criminal. No one is greedy or drunk. They are the perfect family that spends every summer on their private island, Beechwood. The oldest of the Sinclair grandchildren and their best friend call themselves the liars. The four of them—Cadence, Mirren, Johnny, and Gat—are inseparable every summer. They share secrets, go on forbidden adventures, and uncover mysteries of their family as they grow up together in a world of money and privilege.
But the Sinclairs aren't perfect. The aunts always fight over their inheritance and drink away their sorrows. Grandad is beginning to lose his mind and can't cope with the loss of his beloved wife. Cadence herself can't remember summer fifteen after she wakes up in a hospital with traumatic brain injuries and burns.
Cadence struggles to retain her memories as she returns to the island after two years of absence. Everything seems the same as it always was, but the closer she looks, the more she realizes how much the world she once knew has changed. As Cadence tries to put together the pieces of memories that led to her accident, she discovers that the secrets of summer fifteen might have been better left as they were.
We Were Liars is a gripping novel that will leave readers restless to uncover the truth. Suspenseful and surprising, this book is well worth the read as it is fast-paced and entertaining. The characters are realistic and ask questions that teen readers may also be pondering such as the existence of trust between family members and the necessity of faith. However, the intertwining timelines may be difficult to grasp for some readers, and the story contains some mature content that is not appropriate for younger audiences.
Lockhart's writing style is also unique and takes some getting used to. The story is told from Cadence's point of view, and the descriptions make it sometimes difficult to differentiate between imagination and reality.  Careful reading is necessary to determine if the event actually happened to Cadence or if it is a figurative description of her inner emotions.
 Sexual Content
Cadence's parents get divorced because "my father ran off with some woman he loved more than us."
Aunt Carrie's husband left her with four children to care for, including a baby.
When the liars are having a conversation, Johnny asks, "Can't we talk about sex or murder?"
Gat and Cadence fall in love. There are several kissing scenes throughout the novel, but they are never long and their relationship never goes beyond making out. "He touched my face. Ran his hands down my neck and along my collarbone. . . Our kiss was electric and soft, and tentative, and certain, terrifying and exactly right."
Cadence and Gat are anxious to be near one another and often make physical contact. "He touched me whenever he could . . . As long as no one was looking, I ran my finger along Gat's cheekbones, down his back."
Mirren mentions her boyfriend during a conversation with Cadence. "I have a boyfriend named Drake Loggerhead. . . We have had sexual intercourse quite a number of times, but always with protection." Their relationship is never described again and later in the story, it is revealed that Mirren made him up.
When Cadence and Gat are mad at each other, she longs to be with him. "I reach out and touch him. Just the feel of his forearm beneath the thin cotton of his shirt makes me ache to kiss him again."
Violence
Cadence often describes events in her life figuratively and descriptively. When her father leaves, she says, "Then he pulled out a handgun and shot me in the chest. I was standing on the lawn and I fell. The bullet hole opened wide and my heart rolled out of my rib cage and down into a flower bed."
When Cadence discovers that Gat has a girlfriend, she punches the shower wall in anger.
Cadence often describes her emotional pain as blood dripping from her body. Although she is not actually bleeding, this description conveys the pain she feels inside. No one notices except her beloved Gat. "When blood dripped on my bare feet and poured over the book I was reading, he was kind. He wrapped my wrists in soft white gauze." Her pain is described in this manner multiple times.
As a result of her brain injuries, Cadence feels immense pain that is sometimes depicted in disturbing detail. Her pain is often compared to violent situations in an attempt to help the reader understand what she is going She describes her pain as "a truck is rolling over the bones of my neck and head. The vertebrae break, the brains pop and ooze." In another instance, a witch, "swings the statue again and hits above my right ear, smashing my skull. Blow after blow she lands, until tiny flakes of bone litter the bed and mingle with chipped bits of her once-beautiful goose."
Aunt Carrie smacks Aunt Bess across the mouth as they are arguing over their inheritance.
The liars steal some of Grandma Tipper's favorite expensive collectibles and smash them to pieces on a dock. They then wipe them away into the sea.
Near the conclusion of the novel, the liars decide to burn the Clairmont house (the largest house on the island) down to the ground as they are angry with all that it represents. The burning does not go as planned and several characters die in the fire. Their deaths are not described.
Drugs and Alcohol
When Cadence is anxious, she "drank wine I snuck from the Clairmont pantry. I spun violently into the sky, raging and banging stars from their moorings, swirling and vomiting." She and the other liars sneak wine from pantries and other places several times throughout the novel.
Cadence takes medication to help her deal with pain. If she does not take the prescription medication, she suffers pain so unbearable that it makes her question her will to live. Although the drugs are habit-forming, she claims that she does not have an addiction.
The aunts often discuss wine and have chats during cocktail hour. They are also frequently drunk.
Cadence's younger cousins often ask if she is a drug addict. One of them adapts the motto, "Drugs are not your friend."
When making a joke to her aunts, Cadence says, "Nothing wrong with me that a Percocet and a couple slugs of vodka doesn't cure."
Cadence says that she is "high on Percocet half the time."
Language
Profanity is used frequently throughout the novel. Profanity includes: damn, God, fucking, good lord, ass, hell, stupid-ass, asshole, assface, bullshit, fuck, shitty, fuckload, and fucked up. The cursing intensifies when the liars get older.
Shut up is used several times in a conversation.
When attempting to recall her incident, Cadence says, "I suppose that I was raped or attacked or some godforsaken something."
Gat discusses some of Grandad's negative tendencies and behaviors with the liars. "The point is, Harris doesn't like Ed's color. He's a racist bastard, and so was Tipper."
Supernatural
When thinking about her feelings towards Gat, Cadence says, "I am not talking about fate. I don't believe in destiny or soul mates or the supernatural."
Cuddletown, one of the cottages on the island, is haunted, as the ghosts of the deceased liars remain there to help Cadence remember the events of summer fifteen.
Bonnie has an obsession with vampires and insists that they are real.
Spiritual
Cadence and Gat have a conversation on whether or not God exists. When Gat asks, "Do you believe in God?" Cadence responds, "Halfway . . . When things are bad, I'll pray or imagine someone watching over me, listening . . . But the rest of the time, I'm trudging along in my everyday life." After listening, Gat asserts that he no longer believes in God after witnessing the horrors of poverty in India.
One of Cadence's aunts says, "Thank God you're here."
The liars think setting the fire on Clairmont is a semi-spiritual act. They see it as a form of purification as they cleanse their family of its past. Gat refers to the burning as "playing God."
by Morgan Filgas
---
"We should not accept an evil we can change," Cadence. —We Were Liars