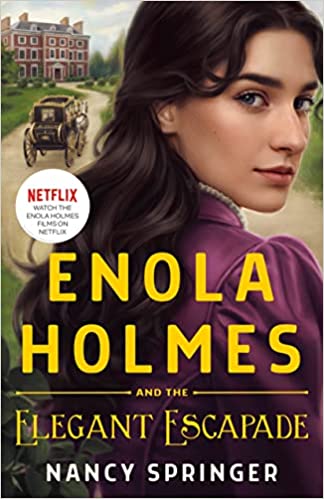 Buy This Book
---
---
"

I greatly feared that Cecily might end up as a homeless street beggar, a friendless resident in a lunatic

asylum, or even worse

,

"

Enola

.

–

Enola Holmes and the Elegant Escapade
Enola Holmes and the Elegant Escapade
by Nancy Springer
At A Glance
Interest Level

13+
Entertainment
Score
Reading Level
7.0
Enola Holmes, the much younger sister of Sherlock, is now living independently in London and working as a scientific perditorian (a finder of persons and things). But that is not the normal lot for young women in Victorian England. Young women fall under the near absolute control of their nearest male relative until they reach adulthood. Such is the case of Enola's friend, Lady Cecily Alastair. Twice before, Enola has rescued Lady Cecily from the unpleasant designs of her caddish father, Sir Eustace Alastair, Baronet. And when Enola is brusquely turned away at the door of the Alastair home, it soon becomes apparent that Lady Cecily once again needs her help.
Affecting a bold escape, Enola takes Lady Cecily to her secret office only to be discovered by the person Lady Cecily's mother hired to find her daughter – Sherlock Holmes himself. But Lady Cecily has already disappeared again, now loose on her own in the unforgiving city of London.
Even worse, Lady Cecily has a secret that few know. She has dual personalities. One is left-handed, independent, and competent; the other is right-handed, meek, and mild. Now Enola must find Lady Cecily before one of her personalities gets her into more trouble than she can handle, and before Sherlock can find her and return her to her father. Once again, for Enola, the game is afoot. 
Enola is a truly admirable character who comes up with unconventional ways to help Cecily escape her father's cruel treatment. While trying to help, Enola digs into Cecily's father's past. Enola gets into plenty of mischief along the way. With secret rooms, a dangerous slide down a coal chute, and a daring rescue, Enola's story is entertaining. However, in this installment Enola doubts her abilities and often scolds herself for not being able to come up with new ideas to discover Sir Eustance's secrets. This interferes with the story's enjoyment, especially because it's out of character for Enola.   
Readers will not relate to the dubious activities of Sir Eustance, as they are tied in with the story's time period and are not relevant to today's readers. Enola discovers that Sir Eustance had been selling his deceased servants' bodies to "dissecting rooms." While not strictly illegal, "it would be a dreadful scandal if it came out." Enola uses this information to blackmail Sir Eustance into treating his wife and daughter better. However, Cecily and her mother make such a short appearance that readers will not feel connected to them, making the end of their plight anticlimactic.  
While Enola Holmes and the Elegant Escapade has some flaws, mystery-loving readers will find a lot to like in the Enola Holmes Series. Enola is a head-strong girl who clearly loves solving a good mystery. Her unexpected ways of solving mysteries lead Enola into humorous situations and her interactions with Sherlock add an interesting dynamic. However, the series is best suited for strong readers because of the advanced vocabulary which includes words such as fulminated, iconoclasm, phrenologist, protuberant, and exigency. Despite this, Enola Holmes and the Elegant Escapade gives an interesting view into the late nineteenth century and readers will enjoy trying to decode Cecily's pigpen cipher. Readers who enjoy the Enola Holmes Series and would like another book with a strong female protagonist should add The True Confessions of Charlotte Doyle by Avi to their reading list. 
Sexual Content  
Cecily was taken by a "charismatic kidnapper." When she was returned home, most of society considered Cecily "soiled, stained, ruined matrimonial goods." 

 

During a dinner conversation, a group of women are discussing a woman who bore her husband eight children. A woman says, "One of us should have slipped her a diaphragm." 

 

While trying to discover Cecily's father's secrets, Enola wonders if "he had dallied with brazen ladies of the theatre. . . run wild in his youth. . . succumbed to hard liquor or worse. Perhaps he had even been known to frequent opium dens."

 
Violence  
After facing Cecily's father, Sir Eustance, Enola tries to flee, but the butler "jumped in front of me to bar the door, I was able. . . to whip my dagger out of my bodice and raise it—not truly menacing; I had no intention of taking his life." The butler moves out of the way.

 
Drugs and Alcohol  
Sherlock likes to smoke "shag tobacco."

 
Language    
Sir Eustance asks Enola, "Who the blasted blazes do you think you are?"

 
Supernatural 
Spiritual Content  
During this time period, being left-handed was considered "the mark of the devil."

 
---
"

I greatly feared that Cecily might end up as a homeless street beggar, a friendless resident in a lunatic

asylum, or even worse

,

"

Enola

.

–

Enola Holmes and the Elegant Escapade