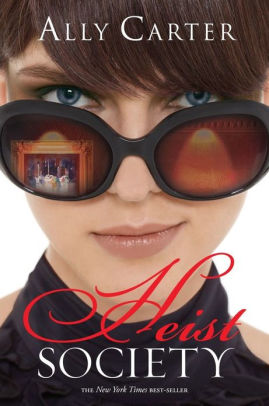 Buy This Book
Buy This Series
---
---
"She absolutely adored the library--an entire building where anyone could take things they didn't own and feel no remorse about it," Kat —Heist Society 
Heist Society
Heist Society #1
by Ally Carter
AR Test, Strong Female Character
At A Glance
Interest Level

12+
Entertainment
Score
Reading Level
5.5
Katarina Bishop knows how to steal. She knows how to lie. After all, at the age of three, her parents took her to the Louvre to case it. Katarina's family—all of her family—is made up of masters at thievery. She had hoped to leave the family business. She had hoped to live a normal life. But when Kat's friend, Hale, appears, Kat realizes that walking away from her old life and her family may not be possible.
Hale wants Kat to return to her life of crime, and he has a good reason. A powerful mobster's priceless art collection has been stolen. The mobster is convinced that only one thief could have taken his priceless paintings—Katarina's father. In order to help her father, Kat goes on a hunt to find the missing paintings. The job would be risky for even the most seasoned thief. Kat is determined to find the paintings. She has two weeks, a teenage crew, and hopefully enough talent to pull off the biggest heist in her family's history. And in the end, she hopes she can steal back the normal life she left behind.
Is there any way a fifteen-year-old girl can pull off this con?
For a story that revolves around a mobster and the threat of death, Heist Society tells a suspenseful story that will have readers engrossed in Kat's story. The plot contains twists and turns that will have readers guessing what characters can be trusted. The interplay between the diverse characters makes the story interesting and enjoyable. By the end of the story, readers will wish they could join Kat's family at the kitchen table and plan a heist of their own.
Similar to Carter's Gallagher Girls series, Heist Society is appropriate for younger readers but will engage readers of all ages. Heist Society delves into the themes of family, loyalty, and good versus evil.  Fast-paced, easy to read, and just plain fun, Heist Society will allow readers to fall into the world of the super-rich and leave with lessons on artwork stolen during the Holocaust.
Sexual Content
Gabrielle's beauty and short skirts are mentioned several times. When she goes into a museum, "there was something about her that simply demanded the guards' attention. Some said later it was her short skirt. Others wisely observed that it was more likely the legs that protruded beneath it."
As a distraction, Nick kisses Kat. ". . . She was in Nick's arms and he was kissing her right there in the middle of the Henley's hallway."
When Kat dresses for an event, her cousins notice her boobs. Her cousin asks, "Seriously, Kat . . . when did you get boobs?" The conversation about her boobs takes place over two pages.
Violence
Drugs and Alcohol
One of the characters pretends to be drunk to distract the museum guards.
Language
Supernatural
Spiritual Content
---
"She absolutely adored the library--an entire building where anyone could take things they didn't own and feel no remorse about it," Kat —Heist Society