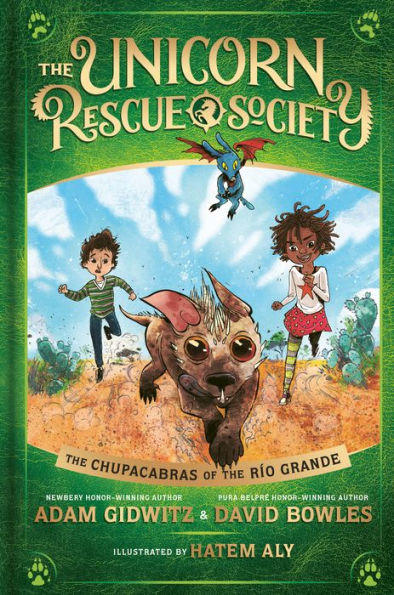 Buy This Book
Buy This Series
---
---
"Because those we disagree with aren't always our enemies. . ." Professor Fauna. –The Chupacabras of the Rio Grande
The Chupacabras of the Rio Grande
The Unicorn Rescue Society #4
by Adam Gidwitz
AR Test, Diverse Characters
At A Glance
Interest Level

8+
Entertainment
Score
Reading Level
4.6
Professor Fauna hears a news report about something that has completely drained the blood from a cow's body! The professor thinks a chupacabra may be the culprit. Professor Fauna bursts into Elliot and Uchenna's classroom and flies them to Laredo, Texas.
Once they arrive in Texas, the kids team up with local kids Lupita and Mateo, their brilliant mother Dr. Alejandra Cervantes, and their father Israel. However, helping the chupacabras isn't the only problem. The people of Laredo are also angry about the building of a border wall. Is there any way to help this divided community? Can the Unicorn Rescue Society save the bloodsucking creature?
As Uchenna and Elliot search for clues that will help them find the chupacabras, they also learn the complicated issue of building a border wall. When talking about the border wall, Professor Fauna said that a border wall is intended to enforce the law, but it is also, "dividing communities and families who have always lived on both sides of the border."
The kids also meet Andrés, who is having a difficult time because he is separated from his parents. Andrés was born in the United States, but his parents weren't, so they were taken to a detention center. The story shows that people can disagree about the border wall but still be friends. In the conclusion, the theme is made clear; "Governments create borders. But for families—of chupacabras and people—borders just keep them apart." The author's view on immigration is made clear; although it ties into the story, the story only shows one side of the argument.
The Chupacabras of the Rio Grande has a well-developed plot full of suspense and adventure. The addition of the Cervantes family allows readers to learn about the Mexican heritage. Although the story takes a more serious tone than the previous books, readers will enjoy the interaction between the characters. In the end, the story highlights the importance of working together despite differences. The Chupacabras of the Rio Grande is an entertaining story that could be used as a starting point for a good discussion on immigration.
Sexual Content
Violence
The chupacabra runs into a flea market where it, "leaped from the table and slammed into an elote cart, knocking it over. Corncobs and kernels and cream and liquid chili went spraying all over the asphalt." At one point an, "elderly woman . . . threw a charger at him."
Drugs and Alcohol
Language
Supernatural
Spiritual Content
When Uchenna and Elliot go to the Cervantes's house, they see a niche that has a statue of the Virgin Mary. The Cervantes's also have an, "alter to our abuela. . . She was the family matriarch."
---
"Because those we disagree with aren't always our enemies. . ." Professor Fauna. –The Chupacabras of the Rio Grande