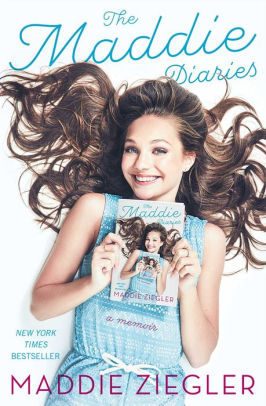 Buy This Book
---
---
"At the beginning of my competitive dancing, I always wanted to win and I'd get mad or upset if I didn't. But now I know that losing is good. It makes you work harder the next time and learn and grow from your mistakes," Maddie. –The Maddie Diaries  
The Maddie Diaries
by Maddie Ziegler
AR Test
At A Glance
Interest Level

14+
Entertainment
Score
Reading Level
6.0
Maddie Ziegler knew one day she'd be a star—she just didn't know how soon that day would come. At just eight years old, she was cast on Lifetime's hit reality show Dance Moms and quickly won the hearts of fans everywhere with her natural talent and determination. Soon, she was capturing attention from all over—including pop superstar Sia, who cast her as her dance double in the incredibly popular music video for her hit song "Chandelier." The rest, as they say, was history.
For the first time, Maddie has chronicled every minute of her exciting ride so fans can experience it with her. Besides sharing her tips and advice on everything from style and beauty to friendship and crushes, Maddie wants to inspire readers to follow their passion as well. "Everyone has a talent and a gift; everyone can make an impact. We are the future, and there is nothing that we can't do if we put our minds to it."
Each short chapter ends with a Dear Maddie section that has questions from teens. Maddie answers each question with encouraging words. In addition, Maddie includes a list of things to do each day such as going tech free, volunteering, or making funny faces in the mirror. Some chapters have short passages written by famous people Maddie knows; these all focus on Maddie's positive attributes. The book also contains thirty pages of pictures of Maddie dancing, hanging out with her friends, and meeting celebrities.
While Maddie tells her story, she gives positive advice. She reminds readers that they don't have to be perfect and that everyone will make mistakes. Even though The Maddie Diaries has good advice, the book is all about self-promotion. Maddie talks all about her positive traits, her talents, her experiences, and the famous people she has met. She takes every opportunity to remind readers that she has met many famous people. For example, Maddie writes, "Sia always tells me you have to take time off, step back, and appreciate the moment."
Unfortunately, Maddie doesn't give specific information about the hardships she's faced. The story lacks depth, which makes her advice sound shallow—"try harder, don't give up, and you can make your dreams come true." Maddie attributes her success to her responsible nature and her hard work. However, she never acknowledges that much of her success came because other people helped her along the way. For example is when she was shooting a film, her mom couldn't stay with her so other people helped out by taking turns chaperoning her. Instead, Maddie complains that shopping in her hometown isn't nearly as fun as shopping at expensive name-brand stores in Los Angeles.
If you are not already a fan of Maddie Ziegler, you may find her look-at-how-great-I-am attitude annoying. Instead of writing an in-depth profile of herself, Maddie gives cliché advice and shallow stories that focus on how wonderful she is. If you're a fan of the reality TV show Dance Moms, you might enjoy The Maddie Diaries. However, if you're looking for a motivational autobiography, The Maddie Diaries will be a disappointing read.
Sexual Content
During a dance, Maddie had to "kiss a boy in front of millions on national TV. . . every time we rehearsed, we had to actually lock lips."
Violence
 Drugs and Alcohol
Language
Supernatural
Spiritual Content
---
"At the beginning of my competitive dancing, I always wanted to win and I'd get mad or upset if I didn't. But now I know that losing is good. It makes you work harder the next time and learn and grow from your mistakes," Maddie. –The Maddie Diaries