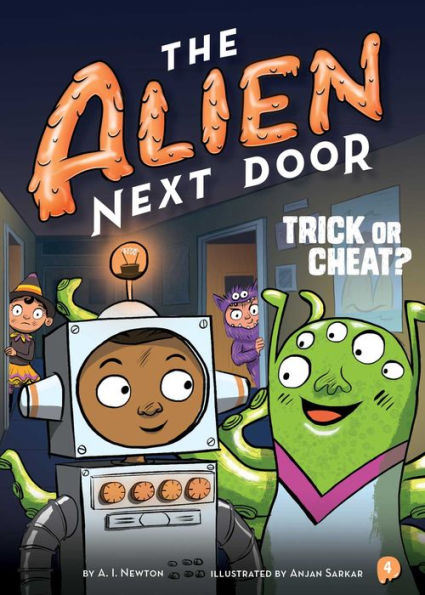 Buy This Book
---
---
"Just because you didn't come in first doesn't mean you're not a winner," Roxy. –Trick or Cheat?
Trick or Cheat?
The Alien Next Door #4
by A.I. Newton
AR Test, Diverse Characters
At A Glance
Interest Level

6+
Entertainment
Score
Reading Level
4.2
Harris is excited about sharing the traditions of Halloween with Zeke. Zeke discovers that he can use his true form for his "costume." Zeke wants Harris to have an amazing costume, so Zeke uses his powers to create a costume for Harris. Now Roxy feels left out because she and Harris always make their costumes together.
When Halloween finally arrives, Roxy is still upset with Harris. To make matters worse, another student is jealous of Zeke's costume and tries to ruin it. Can Harris and Roxy keep Zeke's costume from being destroyed? Who will win the Halloween costume contest?
Harris is the only human that knows that Zeke is an alien. When Zeke goes to school as his true self, others wonder about his "costume." Will Zeke be able to keep his identity a secret? Readers will keep turning the pages to discover the answer. The story doesn't just revolve around Zeke's "costume," but also focuses on Roxy's hurt feelings. Even though Roxy is upset with her friends, she still helps them. Readers will learn that friends can be upset with each other and not want to talk to each other; this doesn't mean that the friendship is over.
Readers will be drawn to the book because of the cute cover and the black and white illustrations that appear on every page. The fun illustrations will help readers recognize the characters' emotions. The story will keep the reader engaged with its fast-paced plot, large font, simple vocabulary, and short chapters. Although Trick or Cheat? is the fourth installment of the series, the story can be enjoyed without reading the previous books. The humorous story is perfect for students who are transitioning to chapter books.
Sexual Content
Violence
A student puts a bag of flour over a door. The student was trying to destroy Zeke's costume, but instead, "it fell right on top of Mr. Mulvaney. A cloud of white exploded right on the gym teacher's head, and Zeke looked over to see him covered in flour."
Drugs and Alcohol
Language
Supernatural
Zeke is an alien who can change shape. Zeke explains, "People from Tragas have the ability to change our appearance. We can make ourselves look like the inhabitants of whatever planet we're currently on."
Zeke used his power to "redirect" a bag of flour.
Spiritual Content
---
"Just because you didn't come in first doesn't mean you're not a winner," Roxy. –Trick or Cheat?