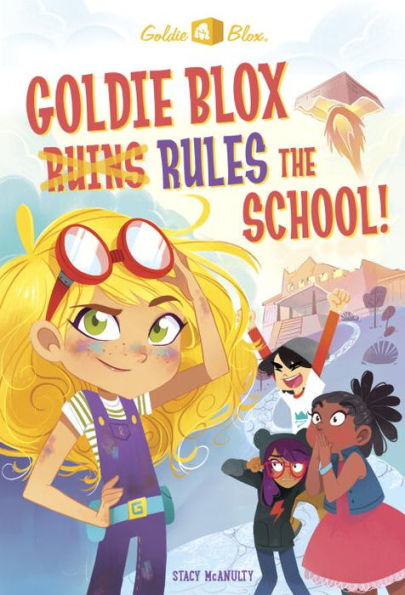 Buy This Book
---
---
"Goldie didn't know her exact IQ. She could never sit long enough to finish the test. She was happy being a creative genius. Someone who would one day change the world—or accidentally cover it in maple syrup." –Goldie Blox (Ruins) Rules the School
Goldie Blox (Ruins) Rules the School
by Stacy McAnulty
AR Test, Diverse Characters
At A Glance
Interest Level

6+
Entertainment
Score
Reading Level
3.5
After accidentally sending the second story of the Blox School to Mars, Goldie Blox is sent to Higgs Bozon Prep. On her first day of school, Goldie causes chaos. Three of Goldie's classmates decide Goldie should go back to her old school, and they're willing to do anything to make that happen.
Goldie makes a plan to rebuild the Blox School, but she's going to need all the help she can get. With the help of her classmates, she plans the repairs for the Blox School. All Goldie needs to do is form a team, bend some rules, and deal with one very grumpy mayor. But at least she'll make some friends along the way!
Goldie Blox loves to create gizmos and gadgets. Engineering is easy for her, and her inventions work despite the fact that she never has a plan. While repairing the Blox School, her team "did very little measuring," but they were still able to create five amazing classrooms, a cafeteria, bathrooms, and an epic climbing tower in just one day. Although the process of building the school is entertaining, the story leaves out the hard work and planning that goes into any engineering feat.
Goldie Blox (Ruins) Rules the School uses humor and silly antics to introduce the idea of engineering. Most of the humor comes from the chaos that Goldie's inventions cause. However, Goldie's dog Nacho adds some bathroom humor, including him "licking his butt." The humorous tone and the fast pace of the story will entertain readers as it teaches that it's more important to make a difference than to fit in.
Goldie Blox (Ruins) Rules the School also shows how trash can be repurposed. Goldie uses "creative recycling" to build the Blox School. Although the results are completely outrageous and unbelievable, younger readers will enjoy Goldie's crazy antics. Goldie is smart, creative, and willing to tackle any engineering project. The story is accessible to younger readers because it uses easy vocabulary, short paragraphs, and cartoonish black and white illustrations that appear every three to five pages. The Goldie Blox Series combines humor, friendship, and engineering into an entertaining story that readers will enjoy.
 Sexual Conte
Violence
 Drugs and Alcohol
Language
The mayor tells Goldie, "You're a rotten apple, and I will not let you ruin the bushel."
Supernatural
Spiritual Content
---
"Goldie didn't know her exact IQ. She could never sit long enough to finish the test. She was happy being a creative genius. Someone who would one day change the world—or accidentally cover it in maple syrup." –Goldie Blox (Ruins) Rules the School