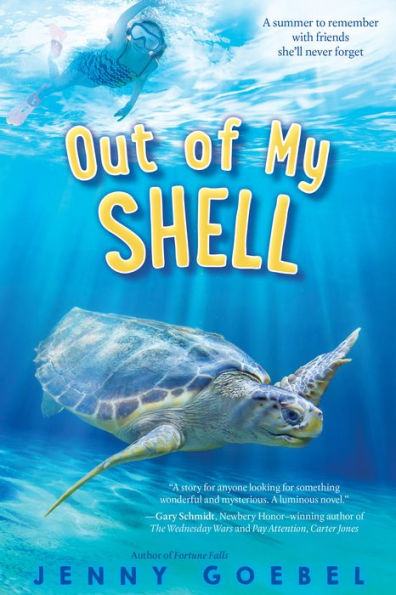 Buy This Book
---
---
"It occurred to me that magic does exist. Not in a spells and charms and fairy tales sort of way, but in the love we have for one another, and in the sometimes ordinary movements that change us forever," Olivia. –Out of My Shell  
Out of My Shell
by Jenny Goebel
AR Test
At A Glance
Interest Level

8+
Entertainment
Score
Reading Level
5.2
Usually Olivia is excited about her family's annual summer vacation to Florida, but she's not this year. This year, everything is different. Her parents have recently separated, and her father isn't joining the family trip. Every summer, Olivia and her father have been a pair. Olivia has never felt close to her mother or younger sister, Lanie. This year, Olivia isn't sure what she will do without her father.
Olivia tries to stay out of everyone's way by hiding in her bedroom. She doesn't know how to deal with the hurt that constantly gnaws at her heart. At night, Olivia goes to a special place on the beach. By chance, she sees a confused sea turtle come onto the beach. Olivia learns that the sea turtle population is in serious risk of dying, and the lights on the neighbor's poorly designed inn are making it difficult for sea turtles to lay their eggs. Olivia knows she has to do something to help; she just doesn't know what.
With all of the changes in her life, she feels helpless, hopeless, and angry. She can't handle any more heartbreak. Will Olivia learn to find the courage to save the turtles? Will she stop hiding in her room and allow others to see her pain?
Like many middle school readers, Olivia is overcome with all of the changes in her life. Between her parents' divorce, the changes in her summer friends, and the crowd of relatives she has to deal with, Olivia just wants to stay in a hard, protective shell. To make matters worse, her little sister Lanie won't leave her alone. Olivia is a relatable and likable narrator, whose actions often do not turn out the way she intended. Readers will understand Olivia's conflicting emotions as well as her desire to help the turtles.
Each chapter begins with an interesting turtle fact. However, the majority of the story follows Olivia's emotional journey. At one point, Olivia envies her sister's ability to dream. "I remember what it was like to believe in magic and fairy tales and happily-ever-afters. Maybe it was worth believing in monsters under the bed and the bogeyman if you could still have unicorns, friendly dragons, charms, and enchantments."
As the story progresses, Olivia learns the importance of standing up for herself and the turtles. She finally realizes that "I wasn't perfect, but I wasn't powerless either." Through Olivia's story, readers will see that anyone—even a twelve-year-old—can make a positive difference in the world. Even though Out of My Shell focuses on Olivia's emotional turmoil, the story has enough action to keep readers turning the pages until the very end. Goebel knows how to weave a heartfelt, entertaining story that will encourage middle school readers to step out of their shells and share their feelings.
Sexual Content
Violence
Drugs and Alcohol
Language
Crud is used once.
Olivia calls her aunt a jerk.
Supernatural
Spiritual Content
When Olivia's sister sees her going outside at night, Olivia "prayed she wouldn't say anything as I tiptoed toward the door."
Olivia helps release baby turtles into the wild. Olivia "found myself whispering a prayer as the ocean gobbled each one of them whole."
When Olivia's sister almost drowns, she whispered prayers.
---
"It occurred to me that magic does exist. Not in a spells and charms and fairy tales sort of way, but in the love we have for one another, and in the sometimes ordinary movements that change us forever," Olivia. –Out of My Shell