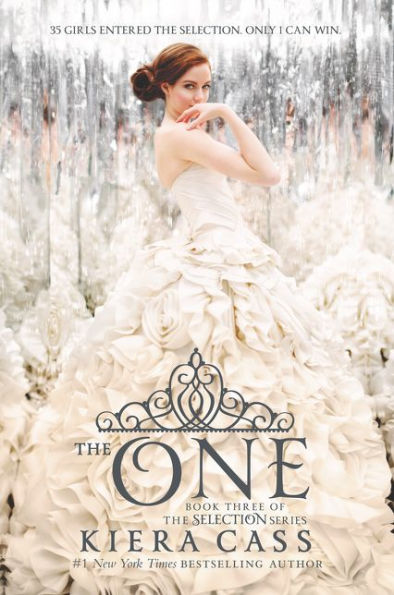 Buy This Book
Buy This Series
---
---
"'Not wanting the crown means you're probably the best person to have it,'" Georgia. -The One
The One
The Selection #3
by Kiera Cass
AR Test, Good for Reluctant Readers, Strong Female Character
At A Glance
Interest Level

13+
Entertainment
Score
Reading Level
4.7
As Maxon's Selection has been narrowed down to the final four girls, competition between the girls is tight. America has noticed her growing love for Maxon, and her jealousy grows as she watches the other girls get closer to the man she loves. The King, however, will do anything to make sure Maxon doesn't choose America, since she is from a lower caste, and the king can't manipulate her. The King has started pressuring her to leave the Selection. Plus, America's previous love, Aspen, has started working as a castle guard, and his presence threatens to unravel the progress Maxon and America have made in their relationship.
As the Selection wears on, rebels against the monarchy are becoming restless and threaten to overthrow the kingdom along with the caste system. Members of the Northern Rebels sneak into the castle and ask for Maxon and America. The rebels strike a deal with them on the promise that if the caste system is ended once Maxon becomes king, the Northern rebels will keep the Southern, more violent and ruthless rebels, at bay. Can Maxon and America trust the rebels? Or will the rebels overthrow the monarchy before the Selection even ends?
Readers will be kept on the edge of their seats in this final installment of the Selection series. The book's twists and turns will help to drive the plot as America and Maxon make their way to the end of the Selection. This third and final book of the series picks up in excitement and romance that was lacking in the second book, The Elite. Though this book is very entertaining, readers will want to have read the previous two books of the series to understand the dynamic characters, the competition between the girls, and the Selection process as a whole.
America is once again shown as the headstrong, powerful woman that was introduced in the first book of the series. Entertaining characters from the previous books will make their appearances, along with new, well-developed characters that add excitement and more diversity to the plot. Themes of friendship, family, and standing up for oneself are seen throughout the story and will help to encourage readers to stand up for what they believe in. With the book's heavy focus on America's family and friends' love and support, readers will recognize that with the support of their own friends and family, they can do anything.
The One has many surprises and a satisfying conclusion. Readers will want to have the first book of Cass's continuation of the Selection series, The Heir, on hand.  The Heir jumps 20 years into the future, where readers learn more about Maxon, America, and their children.
Language
Damn is used twice.
Darn is used once. When he proposes, Maxon states that he's had the ring for a long time and, "I've been sleeping with that darn thing under my pillow."
After there is a misunderstanding of whether or not America has seen Maxon without his shirt on, Celeste is upset and yells, "'You slut!'"
Hell is used three times.
The king threatens Maxon, saying that he will force America to go home. The king says to America, "I'll give you some time to find out where you stand. If you won't do this, then rules be damned, I'll be kicking you out by Christmas Day."
Maxon describes himself as being "an absolute ass."
Sexual Content
Competition is rising between the girls, and in order to get ahead of one another, they begin to make physical advances towards Maxon. America begins to think about what she's done with Maxon and is concerned that, "According to the king, the other girls were making advances toward Maxon—physical advances—and he'd said I was far too plain to have a chance of matching them in that department."
America attempts to seduce Maxon by dressing in a revealing dress. After dinner, Maxon comes up to her room to talk. As he comes into her room, "he focused on me, his gaze traveling up my exposed leg." They sit on America's bed and talk, as America continues her attempt to seduce him. "Sliding my hands down Maxon's arms, I guided his fingers to the zipper on the back of my dress, hoping it would be enough." They talk some more and Maxon eventually leaves the room. The encounter lasts for three pages.
After coming up with a plan to make the king like her, America and Maxon kiss. "With an impish grin on his face, he (Maxon) came very close and gave me a long, slow kiss."
In an argument between the girls, America focuses the attention on Celeste by bringing up an encounter where she saw Celeste and Maxon together. America says, "Celeste was half-naked up against him in a hallway!"
During an argument between the girls, someone mentions how far they have gone with Maxon physically. Kriss then questions, "We need to clear this up. Who has done what with Maxon?'"
As she is recounting the argument with the other girls to Maxon, America explains to Maxon why she mentioned that she had seen Maxon without his shirt on. America states that "'The girls know I saw you without your shirt on…now they just think we were in the middle of some big make-out fest.'" She continues to explain that, "'They (the other girls) know I was your first kiss. And I know everything you have and haven't done with them.'"
America walks in on Maxon kissing one of the other girls. America sees "the back of Maxon's head as Kriss's hand slid just barely into the neck of his suit. Her hair fell to the side as they kissed, and, for her first, it seemed like it was going really well."
Maxon and America sneak out onto the roof of the castle while it's raining. "I raised my face to Maxon's, placing a hand on his cheek, pulling him down for a kiss. His lips, wet, met mine with a brush of heat." They kiss several times and the kiss is described in detail.
Celeste and America discuss Maxon. Celeste says Maxon is "cute. And a great kisser.'"
While Maxon and America are in the back of a truck, they "went over a pretty jarring bump, and he grabbed me. I felt our noses brush in the dark, and the urge to kiss him came unexpectedly fast." Their kissing is described for about a page.
America meets a girl named Paige who lives on the streets and makes money through prostitution. Paige explains to America that, "Just this week I found a group of girls. We work together and share all the profits. If you can forget what you're doing, it's not so bad. I have to cry afterwards."
Maxon is telling America how he feels about her. Maxon begins to describe his feelings, and "a devilish smirk came to his face. He moved his lips to my ear. 'I can think of a few other ways to show you how you make me feel,' he whispered…I trembled as he ran his open lips over a tiny patch of skin, his breath so very tempting." This encounter lasts for two pages.
When Maxon proposes to America, she "laughed in shock and started giving him kisses and giggling between each one." Their intimacy grows more intense as, Maxon's "lips traveled down my neck as he loosened his tie, throwing it somewhere near our shoes." During their encounter, kissing is described in detail and they somewhat undress before stopping. This lasts for three and a half pages.
Aspen walks in on Maxon and America sleeping next to each other in bed. Aspen is alarmed and America is embarrassed. Maxon says, "Don't be embarrassed. It's not as if we were naked. And it's bound to happen in the future."
Maxon starts to leave America's room after talking about their future. Maxon stops as he is leaving and "tackled me (America) on the bed, covering me with kisses." This scene continues for half a page.
Aspen finds America and Maxon sleeping next to each other. Aspen says to America that he, "'just can't believe you slept with him.'" However, nothing happened between America and Maxon.
Maxon and America kiss after Maxon is shot. Then America "bent to kiss him. It was every kiss we'd ever had, all the uncertainty, all the hope."
After the battle, one of America's maids, Lucy, goes to find the boy she loves. After finding him in the hospital wing, Lucy "fell into his arms, kissing his face over and over."
Maxon finally gives America a ring after the battle is over. Maxon kisses America, and she "felt my life settle into place."
A girl talks about what the night after Maxon and America get married will be like. She jokes, "'Wait until tonight.'"
Violence
Southern rebels attack them while America and Maxon are outside the castle with their Northern rebel allies for a meeting. The Southern rebels pull guns on them and as they are trying to escape, America is shot in the shoulder. America "looked down, and in the faint glow of a streetlight, I saw something wet coming from a rip in my sleeve. I'd been shot." The scuffle occurs over three pages.
A girl name Paige finds America in an alley after she is shot. Paige explains her story of how she ended up on the streets. Paige said, "Two weeks after Dad died, she (her aunt) started hitting me. I had to sneak food because she said I was getting fat and wouldn't give me anything to eat."
Southern rebels overrun the castle in an attempt of taking over the monarchy. Many people are injured or killed. America recounts the invasion as she "watched in confusion as a red-marked guard walked up behind Celeste and put a bullet squarely through the back of her head. The screaming and gunfire exploded at once. Guttural shouts of pain filled the room, adding to the cacophony of chairs screeching, bodies hitting walls, and the stampede of people trying to escape as fast as they could in their heels and suits." This battle lasts for seven pages.
During the attack on the castle, Maxon jumps in front of a bullet for America, and it hits him in the chest. America "scurried under the table to find Maxon breathing with great labor, a large red stain growing across his shirt. There was a wound below his left shoulder, and it looked very serious."
Drugs and Alcohol
People are drinking alcohol at a Christmas party. America describes her involvement in the party. "As the relatives started getting tipsy on eggnog, I slipped away, not up to pretending to be jolly."
Spiritual Content
America prays to God after Maxon is shot. She "pinched my eyes together, begging God to keep him alive."
Supernatural Content
by Kate Kucker
---
"'Not wanting the crown means you're probably the best person to have it,'" Georgia. -The One