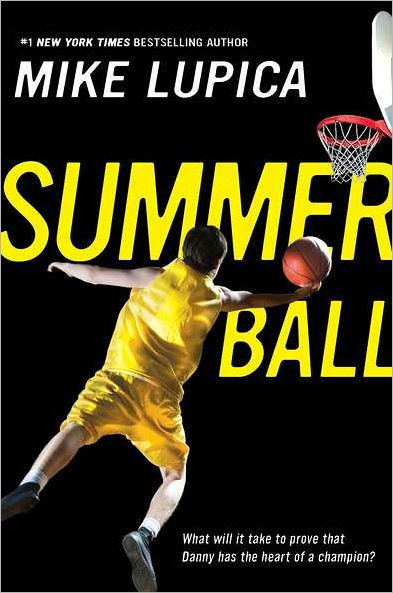 Buy This Book
---
---
"Danny would never tell it to him this way, but the coolest thing about Will Stoddard wasn't the way he made him laugh. It was that Danny already knew he had the best friend he was ever going to have in his life." –Summer Ball
Summer Ball
by Mike Lupica
AR Test, Diverse Characters
At A Glance
Interest Level

8+
Entertainment
Score
Reading Level
5.3
Danny's team has won the national championships. Now he, Ty, and Will head to Right Way Basketball Camp, a prestigious summer camp for kids who are serious about improving their basketball skills. Now that Danny is thirteen, he worries his height may finally be the obstacle that keeps him from truly competing with his peers.
When Danny gets placed with an old school coach who seems to believe Danny would do better in soccer, he becomes more determined than ever to prove that size isn't everything. This sequel to Travel Team brings new characters and the same love of the game as the first book. The main characters from Travel Team also show up in this sequel. However, new friends such as Zach and Rasheed add a new dynamic to the group.
The novel shows the stereotypical summer camp, along with the problems that come along with it such as homesickness, bullying, and a struggle to fit in. This story, while similar to the first, is still an entertaining read that dives into friendships on the court. Danny and his new friend Zach learn how to deal with bullies and how to overcome obstacles through hard work.
Throughout the story, Danny must overcome several obstacles. The reader will understand Danny's feelings as he tries to deal with these different conflicts. Although Danny had to deal with some difficult situations, he perseveres and is able to come up on top.
Summer Ball has scenes that depict the character Lamar bullying Zach and Danny, one time physically. The rest of the scenes describe Lamar gives them a hard time on the court or in passing. They are not violent scenes, but they may upset sensitive readers who have struggled with bullying in the past.
As a sequel to Travel Team, readers do not need to read the first book to enjoy Summer Ball. However, reading Travel Team will help to better understand the characters and their relationships. Overall, Summer Ball is an entertaining sequel with a predictable plot. After reading Summer Ball, sports enthusiasts will want to hit the court and play some ball.
Sexual Content
Violence
Zach, Danny, and Lamar get into a fight. While verbally bullying them, Lamar ruins Zach's basketball by breaking off a needle inside it. Then "Zach stepped back and whipped it right at Lamar's head, the ball either catching Lamar on the side of his head or his shoulder. . . he grabbed Zach by his shoulders and started shaking him, hard. Zach's head bounced around like he was a bobblehead doll."
After Danny stood up for Zach, "Lamar took his big right hand, the one he had on Zach, and flicked it into his stomach like a jab."
Drugs and Alcohol
Language
Crap is used twice.
When he doesn't want to hang out and go to the movies, Will calls Danny a "knothead."
When Danny tells his dad about his difficult coach, his dad says "Oh, God . . . Did he give you all that BS about. . ."
A bully named Lamar asks Danny, "But what's the point if you can't get the dang ball to the dang basket?" He also calls Danny a "midget" four times in this scene.
When she finds out about her son's knee injury, Ali Walker uses "Good Lord" as an exclamation.
A character says in exasperation, "Oh, sweet Lord."
Supernatural
Spiritual Content
Danny thinks about how some players are trying to make their practice into a "guard's game. The way God intended, as Richie Walker liked to say."
Danny is practicing on his own, trying to fix his mistake from the previous game. He thinks, "Like the hoop gods—his dad was always talking about the hoop gods, as though they watched every single game—were giving him a do-over."
by Hannah Neeley
---
"Danny would never tell it to him this way, but the coolest thing about Will Stoddard wasn't the way he made him laugh. It was that Danny already knew he had the best friend he was ever going to have in his life." –Summer Ball